St George's Celebrates World Book Day 2023
St George's Celebrates World Book Day 2023
10 March 2023 (by admin (admin))
St George's Celebrates World Book Day 2023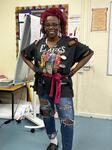 On Thursday 2nd March, we celebrated World Book Day!
Pupils and teachers came to school dressed as their favourite book characters! We had a great day, full of bookish activities. The highlight was our staff pantomime, led by Miss Randhawa - our excellent English Lead. Everyone had a great time!
Congratulations to Miss Pond - the winner of our staff 'best dressed' competition! Can you guess what character she was dressed as?